2020: The Big Dig In Lafayette Square
Out walking the dog this morning, I was stunned by a discovery at the dig site for the new apartments along Chouteau Avenue.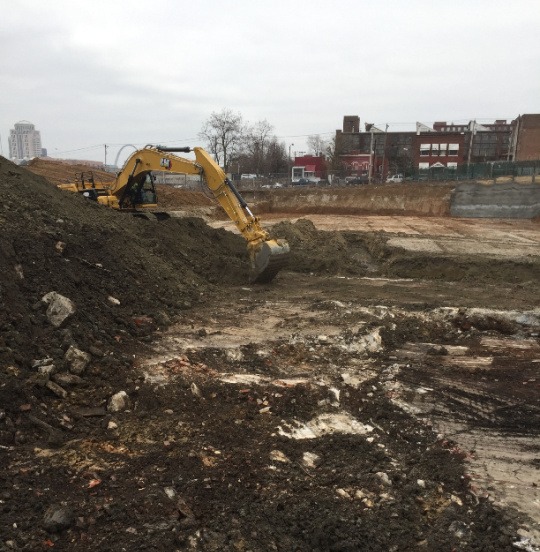 Here's what it was…
Praxair is a compressed gases company, and once had a large production/distribution facility on the site currently being excavated. June 24, 2005, was a scorcher, with a 3:00pm temperature hitting 97 degrees. A propylene cylinder left out in the open sun began venting from overpressure caused by the heat. Static electricity most likely ignited the gas. The flames quickly spread through the inventory of over 8,000 acetylene, propylene and propane cylinders. Over the next five hours, many cylinders became projectiles. They rained back down randomly, and started secondary fires in the neighborhood.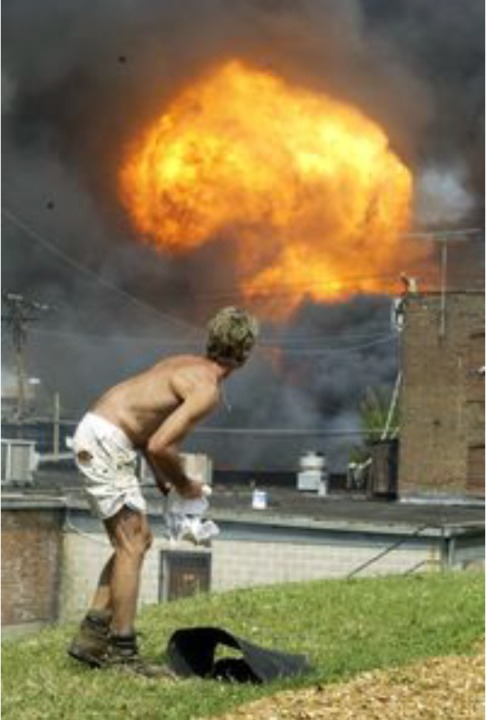 Firemen couldn't enter the facility, and the heat could be felt up to a quarter mile away. Miraculously, no-one was hurt in the blast/blaze, but the news appeared in the New York Times and national wire services.
Here's a 'blockbuster' YouTube video that summarizes the event:
Lafayette Square lay immediately adjacent in three directions. Remarkably, no-one was hurt in the extended blast. Praxair took a rather tone-deaf approach in an open letter published in the Post-Dispatch a week later: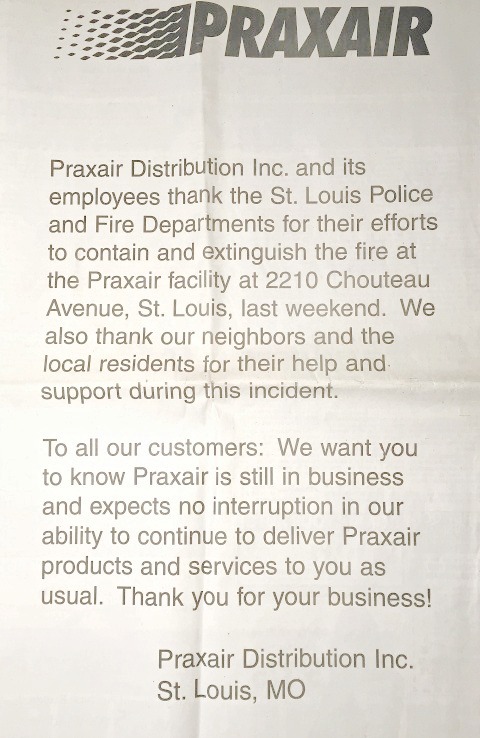 In September, Praxair announced its intention to rebuild on the same site. That galvanized community resistance. The company finally shuttered and sold the site.
After the boom came the bust
So the neighborhood adapted to life with an abandoned concrete jungle for the next 15 years. In 2007, Rothschild Winderling LLC proposed a development of 90 residential units for the site, but nothing became of it. In 2015, Pulte Homes unveiled plans for 64 townhomes there. Local opposition, existing historic codes, and regional economics always managed to keep the lot available, if not desirable.
Progressive architectural website Urban Review even threw up its hands, suggesting that a gas station might find the spot attractive, and might compete with the new QT across Jefferson Avenue.
It's for real when the shovels move in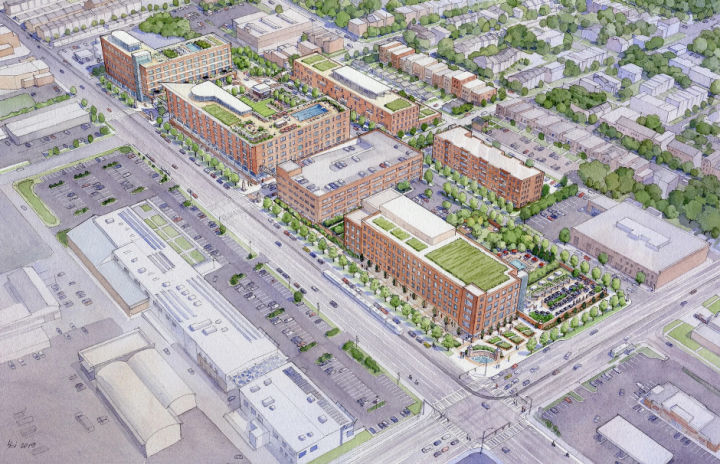 November of 2019 marked an official kickoff for the new "Edge District at Lafayette Square." This name is a sly nod to the long-standing restaurant/bar/political haunt known as The Edge. Here is a great entry on the Lost Tables of St. Louis site, to bring newbies up to speed: https://losttables.com/edge/edge.htm
HOK of St Louis coordinated the architectural look, together with Chouteau Avenue Partners, LLC. Kudos to both for their extensive interactions with neighborhood and city.
The first part of the 12 acre development to proceed is a 128-unit, five level apartment complex at 2200 LaSalle. It's this phase that involves the big dig along Missouri Avenue from Hickory Street to Chouteau Avenue.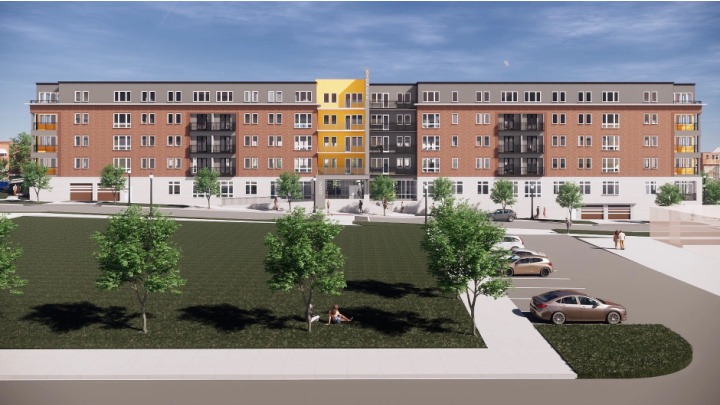 What the big dig found…
The jackhammer and bulldozers made fairly quick work of the concrete surface, exposing nice usable soil on the eastern half, and lots of unusable sticks and bricks on the western side. A vast retaining wall has been poured in place to the south. Everything has gone without a hitch. No burial grounds have been uncovered; a wild card that has snagged some other large projects.
And then this morning, about four feet below the level Praxair sat on, the excavators reported hitting another hard layer. This one is a layer of brick pavers atop a limestone base. It was interesting to watch the steam shovel futilely scraping this layer while trying to add to the mountain of fill dirt from the dig.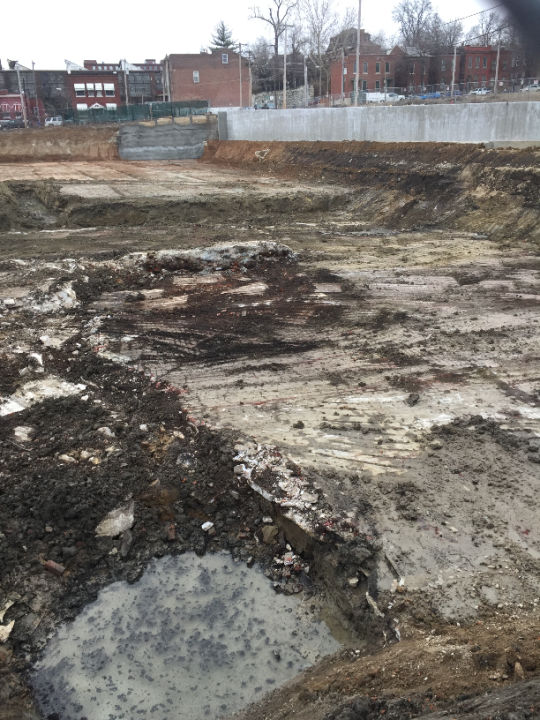 I spoke with Daren, the lead engineer at the site, and Bill Odell of HOK today. They say this will have to go, so the huge jackhammer will return, and work will continue. It reminded me of what used to be on the site of the big dig.
Back 118 years…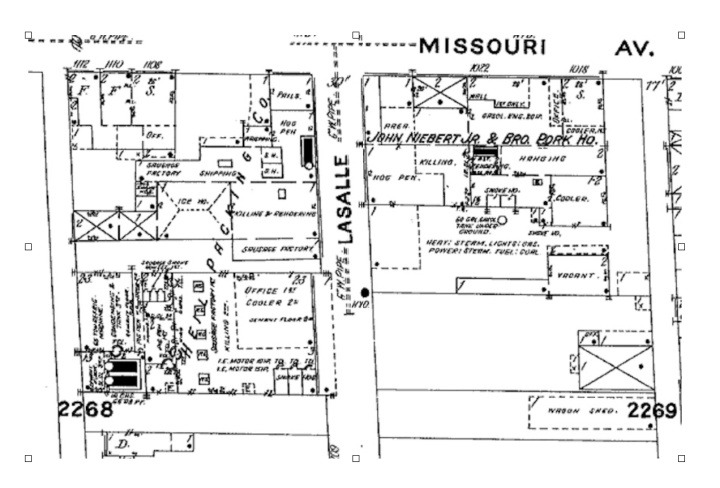 In 1903, Missouri Avenue, from Hickory Street down to Chouteau Avenue was home to a pair of pork packers; Heil Packing Company to the South, and John Niebert Jr. and Brothers Pork House on the North. Both were integrated facilities including pig and hog pens, killing, hanging, rendering, cooling and storing facilities. Both had smoke houses on site and Heil also ran three sausage factory areas. The F designations at 1112 and 1110 Missouri represent flats, or single floor apartments in two story building. This is part of a larger map survey in my earlier blog entry: https://lafayettesquare.org/1903-sanford-map-reveals-the-businesses-of-lafayette-square/
Best guess is that this deeper secondary layer is the original ground level from 1903, and that it was later raised and Praxair built upon it. I'm betting the turnover didn't happen as a result of exploding flaming pigs.
Cutting into the ground around Lafayette Square is like examining tree rings – we build on our past. It seems a fitting metaphor for what we all hope is great new growth in the Northwest quadrant of Lafayette Square.
Thanks to research sources, including:
Chris Stritzel of CityScene STL at https://www.cityscene-stl.com/post/construction-to-commence-on-the-edge-district-at-lafayette-square
Steve Patterson of Urban Review/St.Louis in his article of June 24, 2015 at http://www.urbanreviewstl.com/2015/06/a-decade-since-the-praxair-explosion/
David Hunn and Trisha Howard of the St. Louis Post-Dispatch of June 24, 2015 at https://www.stltoday.com/news/archives/from-2005-explosions-at-praxair-inc-rattled-lafayette-square/collection_b4d4a642-0e8e-5b29-bc1f-8b04c95cebf7.html#1
St. Louis Post-Dispatch coverage from Michele Munz on June 28, 2005,, pA001, and Kim Bell on September 30, 2005, p.C001. Post Praxair development plans from Post-Dispatch, September 5, 2007, p.B003
Feature image by Anthony Souffle for the Post-Dispatch of June 25, 2005.
Praxair press release of September 29, 2005 – "Mechanical Failure Likely Cause of Fire at Praxair"
Sanborn maps of St. Louis are available at the Library of Congress site: https://www.loc.gov/collections/sanborn-maps/?all=true&fa=location:missouri%7Clocation:saint+louis
Lost Tables of St. Louis is one of the strongest blogs in town. Dr. Harley Hammerman digs into the histories of many a fondly remembered dining spot. Highly recommended at https://losttables.com/index.htm