DONATE TO SUPPORT THE SQUARE
Make a one-time gift via credit card to support The Square. You can designate that your gift support a specific initiative or you can give to the General Fund to provide broad and general support for the Square. 
With a recurring gift, you designate a monthly gift amount, and we automatically charge your credit card. This is a great way to provide ongoing support for The Square and/or automatically spread a larger gift across many months. 
The Fountain Park Plaza is home to about 15 benches which offer a view of the stone fountain or landscaped areas of our small park at the heart of the historic business district. The Adopt a Bench program enables the Lafayette Square Restoration Committee to maintain these benches for years to come.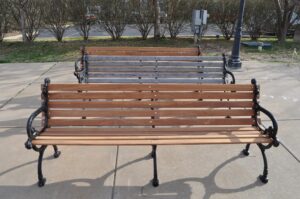 The benches were installed over 12 years ago, when the Plaza was redeveloped from a junkyard to the beautiful public space it is today. This bench restoration project, complete as of mid-2015, replaced the oak slats with ipe wood, a high-quality material known for its durability and resistance to rot. Ipe's longevity is estimated at 25-50 years. The metal bench frames were repaired and refinished. Hardware was replaced. The "new" benches have been installed on the new permeable pathways facing the garden areas or surrounding the fountain.
Your donation of $800 pays for the restoration, plaque, and reinstallation of your bench. In honor of your donation, the LSRC will place a personalized plaque of approximately 4″ x 2″ on each bench. You can choose your bench, so the sooner you order, the more options you'll have.
Your donation is tax deductible to the extent that the law allows. A letter will be sent to verify your donation amount.
Please check the box below to confirm you wish to donate $800 to adopt a bench. After we receive your donation, we will contact you to discuss details regarding your personalized plaque.    
Thank you for your support of our neighborhood beautification efforts!
Would you like to honor a loved one in a very special way? Is there a birth or wedding in the family you'd like to memorialize? Perhaps you would love the opportunity to commemorate your years in Lafayette Square? The Square's Commemorative Brick Program provides a chance to show your support of our historic neighborhood. You may be a lifelong resident, a "newbie", a business owner, or a visitor to the Victorian neighborhood of Lafayette Square. Regardless, you've probably enjoyed the beautiful Park Plaza, home to the stately stone fountain. For the last decade, the Park Plaza, located in the heart of the business district, has become a place for celebration and special events. The Fountain Park Plaza commemorative brick patio will be located in the northwest corner of the Plaza, and our brick program is a fundraiser for the ongoing maintenance of that area. The LSRC intends to continue our beautification efforts to ensure the Fountain Park Plaza will be an attractive community asset for generations to come!
Details
We're offering two sizes of bricks: Standard bricks are 4" x 8" with three lines of engraving, for a fee of $100. Large bricks are 8" x 8" with six lines of engraving, for a fee of $200.
Orders will be inscribed in batches once a minimum quantity has been met. The first 50 bricks are to be engraved and laid in the Spring of 2015.
Bricks may be inscribed with a combination of uppercase and lowercase letters.
Your donation is tax deductible to the extent that the law allows.
You will be notified of location and dedication of your brick.
How to order
Click Commemorative Brick under Donation Type to customize and pay for your brick. We work via the BricksRUs website. 
If you would like to pay with a check or Venmo,  please contact Kelly Schlueter at info@lafayettesquare.org
Help restore and preserve The Square by becoming a sustaining member of the Lafayette Square Restoration Committee. We offer various levels for individuals and members -- with great perks for those who become members. 
Membership levels and details here. 
Complete the Form to Donate Now...