The Lafayette Square Restoration Committee (LSRC) is your neighborhood association! We are a not-for-profit organization, which seeks to facilitate the preservation and redevelopment of Lafayette Square, respecting its special historic character and enhancing its overall livability. The purposes of the LSRC are: to foster community improvement, to encourage restoration and preservation, to re-establish Lafayette Park as a focal point, to stabilize the neighborhood, to foster civic pride, to acquire property to further its goals, and to encourage and support legislation for preservation, restoration, and improvement of the area.
Membership meetings are held at 7PM on the second Tuesday of every month at Sqwires Annex. Even-numbered months (February, April, etc.) will see traditional 'business' meetings with an agenda of reports from various LSRC board members and committees. Odd-numbered months will flip to a social gathering to meet friends and new neighbors, as well as to learn about our other neighborhood organizations: the LSBA, LPC, and Arts Council. Everyone in the neighborhood is welcome at membership meetings – come learn what the LSRC is all about, and we hope you'll decide to join!
Board meetings are held at 7PM on the first Tuesday of each month at the Park House located at the corner of Mississippi and Lafayette.
The LSRC led the effort to produce the Lafayette Square Urban Plan for the neighborhood that was adopted by the City of St. Louis Planning Commission on December 5, 2001. The plan provides a set of guidelines and a roadmap of implementation actions that capitalizes on the neighborhood's existing assets and proposed developments in adjacent areas in order to continue the revitalization of the neighborhood. Amendment #1 revises recommendations regarding land uses and zoning in the northwest corner of the neighborhood. There is a current effort to revise the Urban Plan. If you are interested in joining this effort, contact Linda Weiner at lsrc@lafayettesquare.org.
There is also a current effort to update and revise the Lafayette Square Historic Standards. Meetings are on Mondays, twice a month. If you are interested in participating, contact Suzanne Sessions for exact dates.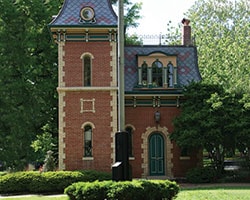 The Park House, lovingly restored and maintained by the LSRC.
The Plaza Fountain, which we maintain year-round along with its garden beds.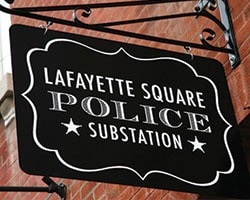 The Park Avenue police substation, provided by the LSRC and supported by the LSBA.
Why join?
The LSRC supports many neighborhood activities. We provide:
Communication
Neighborhood Directory
Neighborhood Meetings
Lafayette Square website
The Marquis, published twice-yearly
Historic Preservation
Beautification & Maintenance of Public Spaces
Capital Improvements
Development Committee
Problem Properties Committee
Events
House Tours
National Night Out
Neighborhood social gatherings
Special Events
Safety
Block Captains
Police Substation
Security Initiatives and Updates
Volunteer opportunities
The LSRC is always open to new members and volunteers! There are many ways to help – docent for the house tour, host a social, serve on a committee, or lend a green thumb at the Plaza. Please head over to our Volunteer page to get connected!