1887 – The Horses and Manure of Lafayette Square
June 7, 2020
/
/
Comments Off

on 1887 – The Horses and Manure of Lafayette Square
1887 – The Horses and Manure of Lafayette Square
Horses are beautiful creatures. Large, strong and well-suited to working with people, they found an immediate home in the heart of American cities.
It was difficult on many levels for St Louis to deal with its own waste. Coal smoke hung like a shroud, sewage was difficult to drain, garbage was dumped in open pits, and animals died without proper burial.
In the 1880's there were over 100,000 horses in the city. Pulling wagons, carriages, and streetcars is hard work, and a properly fed workhorse required three tons of oats and hay yearly. The output was just as impressive. The same workhorse produced 22 pounds of manure a day.
Dead animals and animal waste were more than an olfactory offense. The solution of disposal by rendering carcasses into tallow was so noxious that the smell hung heavy, sickening those nearby. The standard joke was that the stench was so thick it slowed incoming trains. Flies were everywhere, and summers could be insufferable. Eventually, St Louis moved rendering to boats on the river away from the city; a result of the same 1918 code that rezoned Lafayette Square for boarding house residences.
Animal waste was a major factor in city infrastructure development. Dirt roads full of horse manure turned to wet muck in rainy weather, and during dry windy times, the dust would blow into the mouths, noses and eyes of anyone downwind. Stone, brick and macadam streets resulted.
Stabling horses and cattle was a start, at least confining the cleanup to a predictable area. The development of electric streetcars wasn't just the kind of good thinking we prove ourselves incapable of duplicating today – it was a necessity for getting horses off the streets. There's an expression regarding "the horse manure crisis of 1894". This is used to signify something where the solution to an otherwise impossible problem lies in technological progress. The horses became cable and electric streetcars which then gave way to the automobile. The horse manure problem was solved by replacing the horses with horsepower.
Here is a look at the center of Lafayette Square, 18th Street at Park Avenue, in 1892.
Note the giant Lafayette Park Livery, which would have served the early horse drawn version of the Peoples Railway that went down Park Avenue. Across the alley to the north is the neighborhood dairy stable, keeping animal clean up somewhat localized. A blacksmith shop is nearby to serve horseshoeing needs, The old #7 fire station and duplex home immediately north are about all you'll find still there today.
Turning south from Park: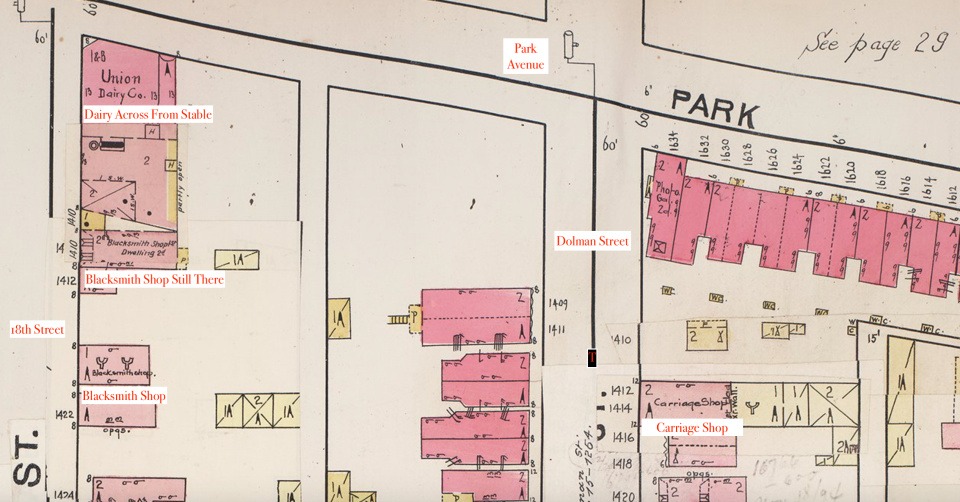 The explanation for a dairy stable across Park Avenue is the old Union Dairy at 18th and Park. South from there is another blacksmith shop, still there today as Daven Anderson's art gallery. A block east on Dolman is a carriage shop.
The St. Louis Common was a tract created in 1836, primarily as grazing lands for the animals of a fast growing city. 30 acres of this was set aside as the first public park in St. Louis. This owed a lot to the fact that its elevation raised it above the many unpleasant odors of downtown, more often exposing it to a pleasant breeze. The development of the whole area followed a logical scheme, and animal culture was central to city life, even if we associate it more with rural environments. Something to consider next time you're enjoying the fresh air from a bench at the fountain in Park Plaza.
Thanks to research sources including:
Livery advertising at top from St Louis Globe-Democrat of June 5, 1887.
Great Horse Manure Issue of 1894 discussion in Wikipedia at https://en.wikipedia.org/wiki/Great_horse_manure_crisis_of_1894; referencing a 2004 article by Stephen Davies of the Foundation For Economic Research
Streetcar cartoon by Dan Zettwock for the Walk Through St Louis 1875 exhibit at the Missouri History Museum. This memorable 2015 exhibit was authored by Andrew Wanko, who discusses it in this interview: https://www.youtube.com/watch?v=rG2ilcDH3Q0
Map extracts from the Whipple insurance map of 1892, courtesy of the Washington University Digital Gateway, also called "Unreal City."