[twocol_one]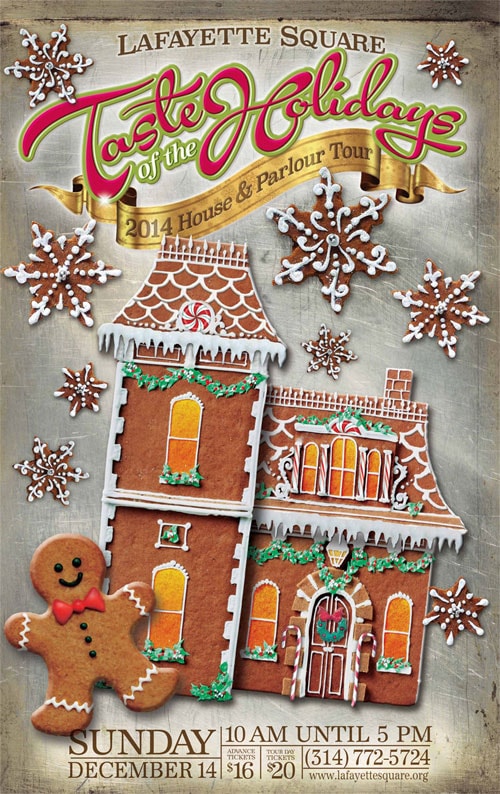 [/twocol_one][twocol_one_last]We hope you'll join us for our Annual Holiday Parlor Tour! On Sunday, December 14, ten historic homes will be decorated in their finest for the holiday season. A true St. Louis holiday tradition, our home tour is a unique annual event showcasing one of the largest collections of Victorian homes in the nation.
New this year: check out our brand new short film on YouTube with just a glimpse of what you'll see on the tour!
TOUR DETAILS
The tour begins at the Park House, located at the corner of Mississippi and Lafayette Avenues. You will pick up your tickets and tour book there.
Amenities include complimentary carriage rides, a trolley between tour homes, live music, strolling carolers, and Santa. Neighborhood shops and restaurants will be open, with many offering treats and discounts.
The tour is conducted as a self-guided, open house format: attendees are welcome to visit homes in any order at any time during tour hours. If you'd like to see all of the tour homes, please allow at least three hours. Our Holiday Parlor Tour features only the first floor of each home. All homes have several stairs leading to the entrance; we regret that we are not wheelchair accessible.
Refreshments and merchandise will be available at the newly renovated Kern Pavilion (formerly known as "the Boathouse") in Lafayette Park, as well as in neighborhood establishments.
Tickets cost $16 in Advance, $20 Day of the Tour, and children under 12 are Free. Tickets are non-refundable. Advance tickets must be picked up on Tour Day at the Park House – we do not mail paper tickets. Please call 314-772-5724 if you have any questions or would prefer to purchase tickets over the phone. Tickets are available in the following businesses:  Four Muddy Paws, George's Hair Salon, Looking Glass Designs, Park Avenue Coffee, Square One Brewery & Distillery, and SqWires Restaurant. Online ticket sales end at 5:00 PM on December 13, 2014.
Tour posters are available at Looking Glass Designs and SqWires Restaurant.
For further questions, please contact us at info@lafayettesquare.org.
Happy Holidays!
[/twocol_one_last]
Generously Sponsored By: 

HOMES ON TOUR
[threecol_one]2327 Albion Place
10 Benton Place
1512 Mississippi Avenue
2330 Park Avenue[/threecol_one][threecol_one]
2012 Lafayette Avenue
1225 Dolman Street
1532 Mississippi Avenue[/threecol_one][threecol_one_last]
1624 Dolman Street
2320 Albion Place
2332 Park Avenue[/threecol_one_last]
ONLINE PRE-SALES HAVE ENDED.
TICKETS WILL BE AVAILABLE AT THE PARK HOUSE ON
SUNDAY, DECEMBER 14 BEGINNING AT 10AM. SEE YOU AT THE TOUR!