Bill and Ted's Most Excellent Adventure Continues
June 4, 2014
/
/
Comments Off

on Bill and Ted's Most Excellent Adventure Continues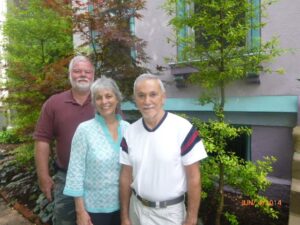 It's been 15 years since Lafayette Square residents Ted Berni and Bill Donahue merged their talents to inspire the creation of an annual antique fair to supplement the Spring House and Garden Tour. The Lafayette Square Antique Fair and Market is part of the public fundraiser for the Lafayette Square Restoration Committee, the neighborhood association of Lafayette Square. As always, the fair takes place on the same days as the annual Tour, which this year is June 7th and 8th. The Antique Fair is open both days, 10 am – 5 pm and will be located along Lafayette Park at Mississippi Avenue, wrapping around to Park and Lafayette Avenues. This year's Fair will include over 60 vendors of antiques, arts and crafts, and architectural salvage housewares.
The Fair was modeled after the renowned Moss Avenue Antique Festival in Peoria, Illinois—now in its 34th year. "Before coming to Lafayette Square, I lived in Peoria in the early 80's," said Donahue. "Moss Avenue is the equivalent of our Lafayette Square with stately historic homes, but unlike most of our homes, Moss Avenue lots have large front yards. This provides a great space for folks to have yard sales." This year the Moss Avenue event has over 100 booths and includes live music and food. And like the Lafayette Square Spring House Tour, it has become the Moss-Bradley neighborhood's largest public fundraiser.
Not having large front yards in Lafayette Square didn't dissuade Donahue and Berni. The large walkways surrounding Lafayette Park seemed like the perfect alternative. So in 1999, with the support of the LSRC, they put their idea into play along Lafayette Avenue. It was a huge success and house tour ticket sales increased $14,000 that year, but the 100 degree heat and the young trees at the time, required subsequent fairs to be located to more shady sides of the park walkways.
This year, with over 60 vendors, shoppers will have a wide variety of merchandise to peruse. Vendors are encouraged to offer pre-1950 furniture, jewelry, and house and garden wares, and are known to enjoy haggling a bit over final prices. "The event is not a flea market, nor like the Gypsy Caravan where you pay a $10 admission fee. Our event is free and comes with free transportation as folks can walk and tour the houses and then take the trolley back to the park for some shade, food and browsing."
Vendors pay a $35 per day or $50 per two day donation fee, which supports neighborhood expenses and improvements. "The primary goal of the antique market is to help bring additional folks to the Square during the house tour," said Donahue. "Some folks like to take a break from touring houses and gardens and the antique market gives them an opportunity to grab a bite, (this year we will have three food trucks), and stroll along the shady trees while browsing antiques."
"This is the one thing I do for the neighborhood," said Donahue. "And I couldn't pull it off without the help of residents and supporters like Beverly McClain, Larry Bennett and Chet Breitwleser." (And of course, Ted Berni, who has recently retired out of state). "Other than postage fees for mailing invitations to local vendors, we do everything ourselves so the LSRC can raise as much as they can from the event. One thing we could always use help with though is marketing and promoting the event." To keep costs down, the antique market does limited mass marketing, relying heavily on word of mouth.
If you would like to learn more or offer volunteer assistance for this year or future antique fairs, contact Bill Donahue (BillDon11@aol.com, 314-750-1750), Larry Bennett (314-280-9061), or Beverly McClain (314-772-6026).
By Doug Bram