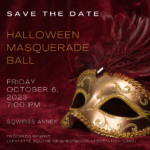 Masquerade Ball 
Description:
Come one, come all, but come in disguise! Lafayette Square's Halloween Masquerade Ball will take place on Friday, October 6, from 7-10:30pm at SqWires Annex. This benefit event for the Lafayette Square Neighborhood Association will feature deliciously themed vittles, both savory and sweet, and an open bar with beer, wine, and a signature drink. DJ Micro (Marco Emerson) will spin tunes to keep dancers of all ages moving their feet.
Dress elegantly or foolishly – the choice is yours! – but "masQ" up! There will be prizes for those that are most creative, ridiculous, and extravagant. If you truly want to stay loyal to the theme, try not to disclose your identity until the big reveal at the end!
TICKET DETAILS COMING SOON!
Proceeds: All proceeds from the event go to the Lafayette Square Neighborhood Association, a not-for-profit organization, which seeks to facilitate the preservation and redevelopment of Lafayette Square, respecting its special historic character and enhancing its overall livability. The LSNA's volunteers and funds are a driving force behind the amenities we have in the Square. The LSNA funds capital improvements, such as historic street signs; beautification, such as landscaping along medians; social events, such as the neighborhood BBQ; communications, such as the website and the publication of the quarterly Marquis; support of community and education partners in and near the square, such as Lafayette Prep Academy and Lift for Life Academy; maintenance, such as upkeep on the Park House and the Plaza Fountain; rental costs for the police substation…and much more!