49th Annual Spring Home & Garden Tour on June 2 & 3
By Lynne Nabors
Although spring has been late this year, and we're barely used to air conditioning again, it's that time of year…time to dust off our welcome mat and welcome eager tour goers to our neighborhood again! We have an abundance of lovely homes and gardens to offer, and I don't know if there's ever been a more diversified group of locations to visit. Victorians to condominiums, we have a little bit of everything, including a loft apartment complex and a church celebrating its 175th year. So, here's a hearty welcome to all tour goers and most sincere thanks to all the home owners for their participation!
Buy Tickets!
$20.00Read more
---
1515 Missouri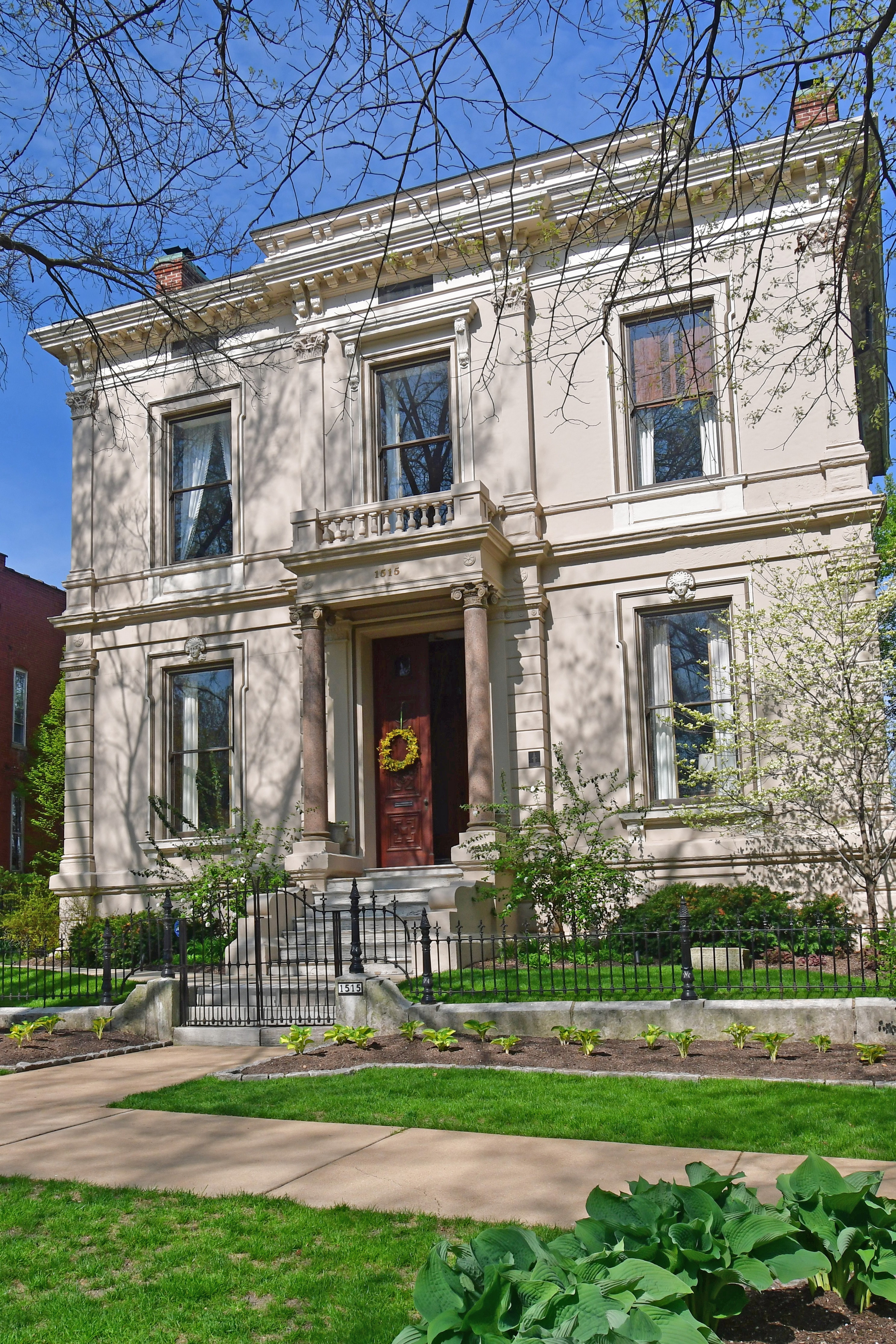 The stately 19 room Italianate mansion was designed by George Barnett to be a summer home for John and Sophia Vogel. During the early 1920s the house was converted into a rooming house and had deteriorated as a result. At one point there were 13 2-room apartments in use. Now fully restored to its former glory, it features 14-foot ceilings and a 3-story walnut staircase. The home of Anthony and Cole McBride and their two children, it is a highlight of this year's tour.
---
2156 Lafayette
This beautifully restored High Victorian brick home, with brickwork similar to Harvard's Memorial Hall, has the distinction of having been built in 1880 by Captain James Eads, builder of the famous Eads Bridge. It survived the Great Cyclone of 1896, but most of the 3rd floor was destroyed. The gorgeous restored woodwork, much of it intricately carved in a floral and bird motif, the carved mantel and the still functioning pocket doors are made of the finest Missouri walnut, as is the 3-story floating staircase.
---
1408 Mississippi
One of the newest homes in Lafayette Square, with construction completed in December 2016, this beautiful home pairs a historic exterior with a more contemporary interior. The home's front exterior is modeled after a home original to the neighborhood at 1554 Mississippi Avenue. Many features of this home give it a historic feel. Be sure to note the ornately painted exterior double doors as you enter. Large windows offer stunning views of Lafayette Park and the Victorian buildings which line Park Avenue.
---
2031 Park
This Romanesque mansion and St. Louis Union Station have something in common. They were both designed by Theodore Link. The home was designed for the Ernst Link family and was completed in 1895. The 1896 tornado damaged the roof, requiring slates to be replaced. The house has been maintained over the years, never undergoing the neglect and resulting deterioration many in Lafayette Square suffered, although it was a rooming house when purchased by the current owner's maternal grandparents in the 1930s. The drawing room, with its magnificent wood carved fireplace, and the music room, with its floor to ceiling pier mirror, are two of the highlights of this historic home.
---
1842 Kennett
For an eye-opening look behind the scenes of Lafayette Square rehabbers, don't miss this large Italianate home on one of the Square's loveliest streets. It is a work in progress, commonly called a "gut rehab." After viewing it you will have a better idea of how all those lovely rehabbed Victorian homes looked before the "pioneers" of Lafayette Square started renovating them. You can visualize the final results now and come back when it's finished and offered for sale!
---
1614 South 18th
Built in 1865, this Federal Style home has undergone many changes over the years, even before the recent renovations over the last 40 years. It was built in stages, the dining area being the oldest section, and the wall thickness is different between it and the living room. The side door was the entry for the original four room structure. The living room, which was added in 1870, was once a separate apartment, one of four the house was subdivided into, and there was a bathroom in the corner diagonal to the door leading into the room!
---
1515 Lafayette – The Georgian
Like the fabled Phoenix, the structure of the Georgian Condominiums has arisen, not once but twice, from the ashes of previous efforts. Initially the City Hospital, built in 1846, burned to the ground only ten years later. Rebuilt, it reopened in 1857, and stood until the Great Cyclone of 1896, which totally destroyed the City Hospital again. By this time, St. Louis was in its heyday and needed a new, larger hospital. Subsequently, the architectural firm Graber, Weber and Groves designed the Georgian Revival building that remains today.
Unit 512
With a lovely open floor plan and a balcony view overlooking the Arch and downtown, this two-bedroom home is furnished with modern and traditional furnishings and art work. The owners enjoy the proximity to downtown and to Lafayette Park. They have owned the unit since 2006.
Unit 206
The two-bedroom unit is bright and sunny and is decorated with furnishings and art pieces that are meaningful to the owner, who enjoys concerts in Lafayette Park every summer, and the convenience of living so close to downtown.
---
2300 Lafayette – Lafayette Park United Methodist Church
This beautiful church is celebrating its 175th Anniversary and welcomes you to visit the sanctuary. The oldest continuously operating religious congregation in Lafayette Square has experienced two tornadoes, and several relocations, but has been in this spot since 1900. The sanctuary has the original pews and stained glass windows, as well as the original Killigan electric organ. It has been completely repainted and updated.
---
1907 Hickory
Open and airy, contemporary feeling, the home was once the residence of Herman Henry Niemann, born in Germany in 1841. Built in 1885, this Victorian lady has been lovingly cared for by generations. This home seamlessly combines the old and the new creating an environment that is respectful of the past, but updated with a nod toward the future.
---
1808 Hickory
A lovely Italianate home built in 1875, this was initially a rental property, as was the whole row of homes like it. And, as with many, if not most, of the houses in Lafayette Square, it spent many years as a "rooming house." Records indicate it has had more than 20 owners. Now a gracious home with a ton of fascinating features, it welcomes you to wander through keeping your eyes open!
---
1119 Mississippi – The Lofts at Lafayette Square
Once a thriving shoe manufacturing plant, the massive brick building became a foam rubber fabricating business in the 80s, before being renovated and converted into the apartments now existing. Completed in 2002, there are 109 1 and 2-bedroom units with gated parking and ample security. You are invited to look around the guest loft and enjoy light refreshments, a chance to sit for a few minutes and restrooms.
---
1922 LaSalle
This compact and elegant town house was built in 1885 as a three-unit townhouse. In the late 1970s, the building was in desperate need of rescue, after years of neglect and deterioration. Lafayette Square residents Bob Cassilly, the sculptor and of City Museum fame, and Wayne Curran purchased the entire building for about $21,000 and undertook a gut rehab on each unit. Now fully renovated, the home is beautifully and tastefully furnished with family antiques and personal memorabilia.
---
1222 Dolman
One of two newly built townhouses in this building, 1922 Dolman Street has been the site of a "rebirth" within a reborn neighborhood, as there are numerous new homes here, blending with the older homes they sit comfortably beside. This home beautifully demonstrates how a modern and spacious interior can sit behind a historic appearing front façade. A spectacular custom designed glass light fixture sets the theme of the décor.
---
1410 South 18th
Formerly a blacksmith shop when the building was built circa 1890, this property and business is one of Lafayette Square's little-known assets. It now serves as an art studio and classroom for Daven Anderson, an internationally recognized artist. Here Daven paints and conducts classes for aspiring artists, and he and Kathie live upstairs. This years' tour poster art was done by Daven, and he will be signing posters for those who purchase them, either at the Park House or here at his studio.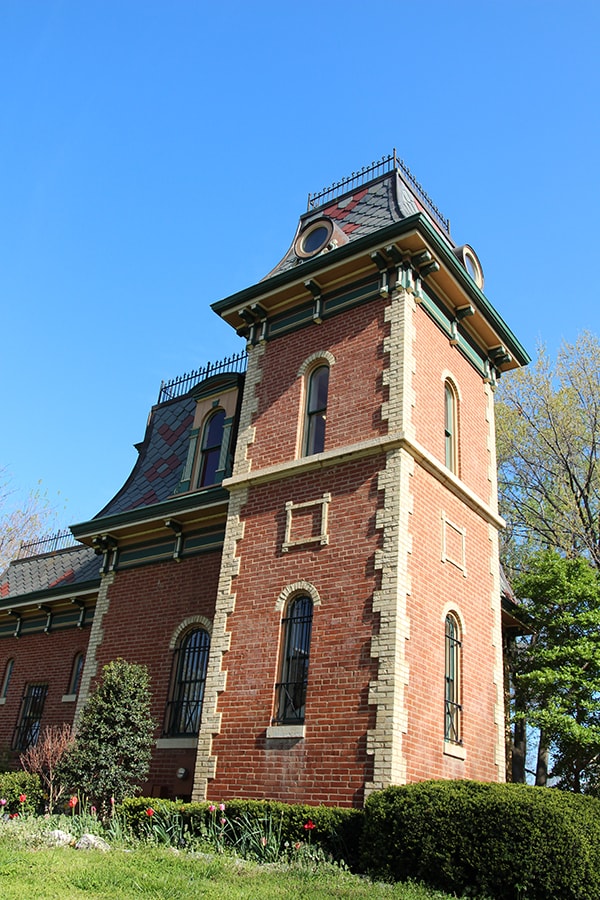 ---
Gardens on Tour
2007 Park – Park Avenue Mansion Bed and Breakfast
1216 Dolman
1425 Dolman
1705 Carroll
Tour amenities include complimentary Carriage Rides, an Antique Fair surrounding Lafayette Park, the Shepard Barclay Vintage Baseball Festival and a Saturday evening Concert featuring the Ralph Butler Band. Neighborhood shops, art galleries and restaurants will be open, with many offering treats and discounts.
---
House Tour tickets cost $20 in advance and $25 on the days of the tour. Children under 12 are free. Advance tickets are available at lafayettesquare.org and in the following neighborhood businesses: Clementine's Creamery, Forrest Gallery, Four Muddy Paws (both locations), Lehmann House Bed & Breakfast, Looking Glass Designs, Park Avenue Coffee, Polite Society, Square One Brewery & Distillery and SqWires Restaurant. The Lafayette Square Spring Home & Garden Tour is presented by the Lafayette Square Restoration Committee.
---
Buy Tickets!
$20.00Read more