Date: Saturday February 23, 2019
Time: 7pm-10:30pm
Location: Lehmann House B&B, 10 Benton Place, St. Louis MO 63104
Ticket Price: $50 LSRC member pre-sales until 1/16, after that $60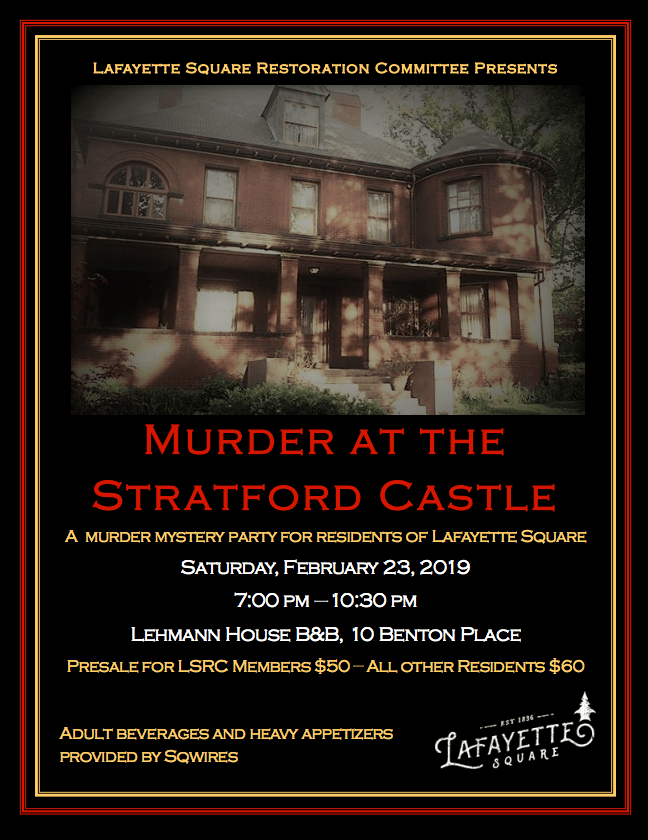 A scandalous preservation society-themed murder mystery party at Lehmann House B&B for residents of Lafayette Square over the age of 21.
The Stratford Castle Ball is a premiere social event hosted by the Kilmore Preservation Society. The Kilmore Preservation Society is comprised of many diverse individuals who have a passion to preserve historical landmarks, such as the Stratford Castle. The members come from all walks of life such as astronauts, ancient artifact dealers, and medical researchers. Those in the inner circle know there has been a great conflict in planning the ball this year. There have been too many scandals between the members lately. In addition, nobody in the town of Kilmore feels safe with a serial killer on the loose. You are a member of the preservation society and must attend this event. This is where your story begins…
This event is hosted by the Lafayette Square Restoration Committee. The evening will include heavy appetizers, desserts, adult drinks, and a character assignment with your ticket price. There will be party games and prizes–including best dressed–so costumes are required! We also are looking for volunteers for the day of the event: decorators, servers, coat checkers, etc. Email Christina to sign up!
You will receive an email by the end January, with additional information including your character assignment and details (name, bio and suggested attire).
Tickets are non-refundable. If your plans change at any time after purchase and you are not able to attend, please notify jackiegewinner@gmail.com so that we can ensure your assigned character is reassigned and does not impact the evening's events.
Space is limited, tickets are first come first served – purchase your ticket to secure your space today! Prices increase to $60 on 1/16.  
For additional questions please contact jackiegewinner@gmail.com.