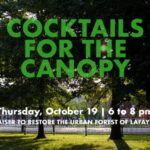 Cocktails for the Canopy: a fundraiser for the trees of Lafayette Park.
Enjoy cocktails, hors d'oeuvres and live music lakeside and support the replenishing of this urban forest, considered by many to be the oldest city park west of the Mississippi.
Dance to Tommy Halloran's Guerilla Strings, tour notable trees of Lafayette Park, get answers to your tree questions from a certified arborist.
FOOD AND BEVERAGES PROVIDED BY:
Square One Brewery and Distillery | Polite Society | Planter's House | Charleville Brewing & Tavern
Ticket Sales
Due to overwhelming demand, tickets are sold out! Please consider donating to the cause, though…
Can't make it, but still want to donate?
Canopy Donation*
*leave the quantity at "1" and you can name your own price on the following page
Suggested Donation: $20.00Set Price
About the trees of Lafayette Park
As understanding of the ecological and economic values of trees increases, so does recognition of the importance of our urban forests.
The trees of Lafayette Park make up one of the most popular of such forests in the St. Louis region, offering residents and visitors alike a shady retreat, a hub of recreation and community engagement, and a lush backdrop for everything from family photos to formal events.
The management of this urban oasis has involved a variety of grassroots efforts on the part of neighborhood residents, St. Louis City representatives, and statewide ecological organizations. Despite these efforts, Lafayette Park has existed in a net-negative tree-loss state for the past ten years.
With tree loss growing increasingly persistent as more trees reach the end of their life or fall victim to ecological devastation due to invasive species like the emerald ash borer, the Lafayette Square Restoration Committee, in consultation with the City Forestry Department, Missouri Department of Conservation, and SWT Landscape Architects, has established a corpus and master plan for the replanting and maintenance of the park tree population.