1903: A Photographic Walk Around Lafayette Park
September 29, 2019
/
/
Comments Off

on 1903: A Photographic Walk Around Lafayette Park
Today's feature is a newly discovered group of about 45 images of Lafayette Park, taken sometime after the great tornado of 1896. The trees were being reestablished – although about every old growth tree was lost, some of the smaller ones bent rather than broke and so survived. An interesting aspect of this is that the loss of canopy provided more unobstructed views of the streets surrounding the park, and close inspection has its rewards.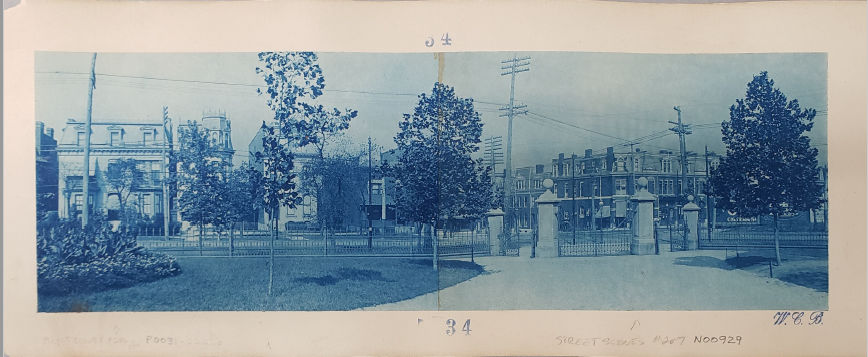 The photos were taken by Park Superintendent Leonard Hunt, sometime around 1904, perhaps as part of a submission for review by the landscaping judges at that year's World's Fair. Each photo is a meticulously matched combination of two individual shots, made into single images that look like today's panoramic photographs. This must have taken some patience, and wouldn't have been a routine set of shots by the park supervisor.
The collection has aged, and the original images have faded and blued somewhat over time. We resisted the urge to doctor them, in the interest of conserving their authenticity. Nevertheless, there are fascinating images of ponds, rock gardens, gravel walkways and iron fences, the caretaker's house and bandstand, children skating in the winter, and various strolling visitors in the summer. Photo 11 shows how the current rock garden area was once a pond with a dramatic fountain. Photo 14 features one of the gaslights that dotted the walkways. Photo 22 is the horse watering cistern near the Park House, turned into a planter, much like today. Photo 34 features the Northwest gates at Mississippi and Park Avenues. Photo 51 is of a man holding a goose; we don't know why.
A little historical background: Leonard Hunt (1836-1913) served as Lafayette Park Superintendent for 33 years, from 1872 through 1905. He was given the unenviable task of rebuilding Lafayette Park following the destruction of the 1896 tornado. His dedication to this work led to the park being awarded for its landscaping at the 1904 Fair. Coincidentally, the Fair signaled the emergence of Forest Park as the newly preeminent jewel of the parks system. Hunt resigned when park oversight passed from the original Lafayette Park Board of Improvement to the St Louis City Park Department in 1905.
This collection of photographs was presented to Hunt's widow in 1924 by William Clark Breckenridge (1862-1927), a well-known St Louis area historian. They were later donated to the Missouri Historical Society on the UMSL campus, where the collection is located today.
It's easy to review these photos in the Lafayette Square Archives searchable digital database. Click on this link: https://www.archives-lafayettesquare.org,
You'll see a map with various overlay possibilities and In the left hand Search window, just enter the word Series. You'll get three sets of about 15 images in scrollable form. They are high enough resolution that you can enlarge pretty much as you wish. If you bookmark the database, you can come back anytime and browse our collection now containing over 1200 photos and documents relating to Lafayette Park and Square. Just enter a year, an address, a name – whatever you can think of – there is a lot to explore here, and more is alway being added.