1849: We Got This – The St Louis Cholera Epidemic
March 29, 2020
/
/
Comments Off

on 1849: We Got This – The St Louis Cholera Epidemic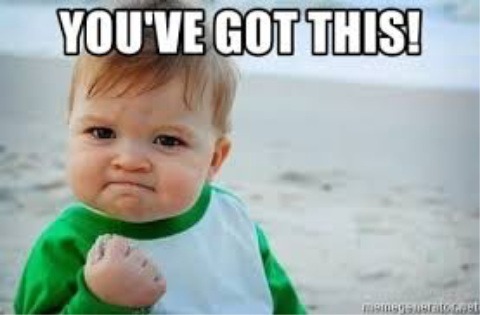 The Coronavirus is a virus, all right, but it's not the flu. It's a dangerous situation, among other reasons, because we have no familiarity with it. COVID-19 has spread like a superflu, and quickly embedded across the US and the world in general. As it ruined what was a terrific economy, many of us just want the celebration to resume as soon as possible. Some even continue to deny the shared threat, and party on. It remains to be seen how this will all shake out, but the sensible ones are battened down for a long siege, encouraging each other from a mutually safe distance. Like it or not, we're all in it together, blocks, neighborhoods, cities, states and nations.
The federal government has done an appallingly poor job of preparing for, and coordinating a response to the health threat posed by COVID-19. It seems to trickle down to the cities and neighborhoods to figure local strategies to keep the greatest number safe, while conserving our hospital space and equipment limitations.
I see signs that say, "You Got This," and they seem reassuring. The Cambridge English Dictionary says it means you're strong enough to deal with what you've been dealt. It's difficult to cope with, let alone fight an infectious invisibility. Worse is that the best tactic is to take a passive, not an active approach, hunkering down and letting the fire burn itself out. We've got better local leadership, informed by a history of having made the right decision in an epidemic before.
The temptation was to write about the Great Flu of 1918, in which St Louis, its mayor Henry Kiel and Health Commissioner Max Starkloff did yeoman's work in getting ahead of the curve and flattening it. Curve ball; the story today is from 70 years before that
In 1849, a ferocious cholera epidemic killed from 7 to 10% of the city's population and decimated the economy of fast growing St Louis. In the absence of public health policy, residents only recourse was a voluntary approach to addressing the crisis. Even though the cause of the disease was poorly understood, cholera was widely feared, as it hit fast and hard, sometimes killing victims by dehydration within a day of exposure.
The city was put on notice in January, 1849 that cholera was running amok in New Orleans, and city officials responded by draining its largest body of stagnant water, Chouteau's Pond. This was about where Union Station is today. The Board of Health, composed of members of the Board of Aldermen, endorsed a program of avoiding the consumption of fish and vegetables to stave off the disease.
1849 was a wild time for people moving about. Up to 800 emigrants per day arrived in St Louis from the Crescent City, to wagon west from here for the gold fields. The influx was overwhelming. The Missouri Republican newspaper estimated that in late June 1849, a third of the population were emigrants. With housing at a premium, many stayed in slums along the river, adding to the general unhealthy conditions. This was exacerbated by the complete absence of sewers and garbage collection in the city. St Louis was primed for disaster.
The disease quickly spread from emigrants to St Louisans in the spring of 1849, as local newspapers tried to downplay the situation, in the interest of maintaining business activities. In May, the Missouri Republican gave up this effort and began printing daily death figures. By that time "business of every kind (was) nearly suspended."
The epidemic was actually overshadowed by an even more imminent crisis on May 17th when St Louis' business district caught fire. The cholera casualties declined for a couple weeks, then reached full-blown epidemic status in June and July. No group nor part of town was safe from its reach. The impact was worst in the filthy area of Chouteau's Pond. and it was reported that two-thirds of the inhabitants of that area died by July 3rd.
Courts were closed as juries refused to show up, churches and schools were adjourned and orphanages emptied. Doctors were unable to accomplish much, as the source of the disease wouldn't be established for another 34 years. Without understanding the cause, they were left to attempt treating the symptoms. Prescribed treatments included bathing at least once a week, avoiding exposure to cold damp weather, foregoing fish and vegetables, and avoiding public gatherings. Other more invasive methods involved administration of morphine, mercury compounds, and bleeding the patient. It must have been maddening to physicians, many of whom worked to exhaustion on a daily basis and were prone to infection as well.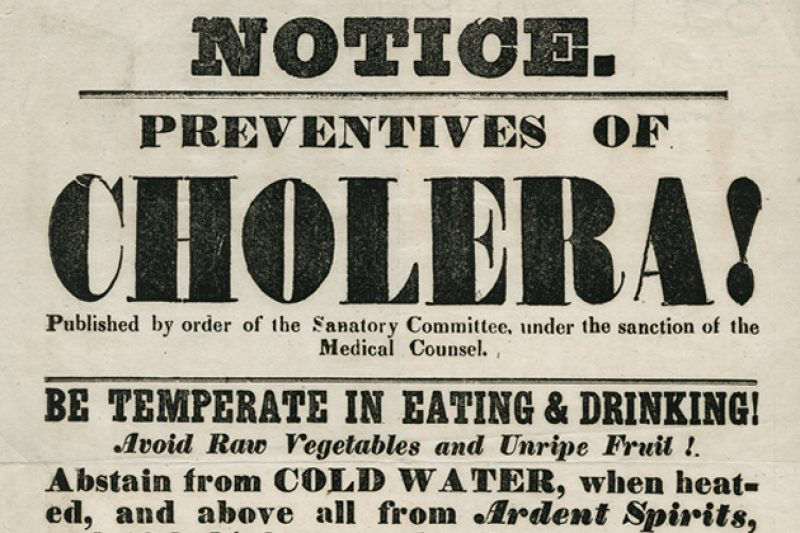 The Board of Health was a subset of the Board of Aldermen, hardly qualified to deal with public health crises. It recommended avoiding certain foods and later advised citizens to disinfect their own property. Talk of creating a sewer system snarled within discussions of public taxation and the reluctance to sponsor such a measure. Public apathy ran high as well. People wanted low taxation, but also showed little interest in improving the plight of the poor in St Louis' slums or the drainage of fetid water from the town. It was dangerously "out of sight, out of mind." Part of the burden for a lack of awareness and interest was on the newspapers, doing little to expose the wretched conditions conducive to the spread of cholera.
City government was limited in authority, resources and perspective. It failed to respond to the crisis, and by mid-summer the death toll was well over 5,000.
Thousands of angry, frightened citizens massed at City Hall on June 25 in heavy rain, demanding that city officials take action. Several hundred citizens gathered in the Rotunda and chose Edward Bates (later US Attorney General under President Lincoln) to preside. He appointed a committee of 12 leading citizens, known as the Committee of Public Health, and they drew up a list of demands.
The Board of Aldermen passed some weak public health measures in an effort to save their jobs, but when presented with the demand to take action or surrender authority, the board, the mayor and the city council gladly handed over most of their authority to the 12 man delegation that called on them. The committee took control of virtually all government functions at the peak of the epidemic.
Immediately, the Committee of Public Health put its power to use. It organized the city into 3 to 4 block sub-districts, and appointed inspectors from residents of each district to see that recommendations were carried out. More than 140 ward inspectors were appointed to patrol neighborhoods daily, aid the sick, and enforce the committee's new sanitation ordinances. They ordered citizens to clean and disinfect their properties under threat of stiff fines, contracted for "slop carts" to haul waste away, converted schools into hospitals, that operated at public expense, employed drivers to take the sick to hospitals and carry the dead to burial, maintained free drug dispensaries, supplied clean water to the poor and established a quarantine for steamboats approaching the city. The speed with which they moved would have been breath-taking in any age.
Epidemics eventually burn themselves out, but concerted civic action hastened this one's decline. Without realizing its full importance, the committee helped stop the spread of the disease by isolating victims in temporary ward hospitals, away from the rest of the community.
The only member of the twelve man bipartisan committee that benefitted directly from his service in the 1849 epidemic was Luther Kennett, who emerged as the city's most popular leader. He was elected mayor the following year and US Congressman in 1854, when he defeated Thomas Hart Benton. In 1857, Kennett became president of the Iron Mountain Railroad. Stephen Barlow was also an officer in the railroad, and platted Kennett Place in Lafayette Square, named for his associate, former mayor, and ace organizer.
Interesting how nothing succeeds like success. The performance of the committee led to a movement to make medical services available to the poor, and shortly after that, the Sisters of Charity volunteered to staff a temporary hospital. An orphan's committee was organized for each ward of the city. By July 5, committeemen were named to collect and distribute contributions for children, "made destitute by the prevailing epidemic."
Younger St Louisans volunteered time and effort in the community, and "Sanitation Societies" were formed, composed of young people helping tend the sick and aid block inspectors.
In a void left by government, church and the medical profession, St Louisans young and old, businessmen and laborers responded to the crisis and methodically attacked it. Rather than rely on unresponsive institutions, they took it on themselves. Volunteers rock.
Voluntary participation made a success of responding to a hard challenge. As soon as the epidemic ebbed, St Louis business boomed, putting the charred city back together. By the end of July, 80 buildings were scheduled for immediate erection and riverboat traffic resumed. The biggest benefit was a collective awareness of the need to improve public health. It began an era of creating hospitals and charitable institutions in the city. It made the public more appreciative of the utility of taxes toward infrastructural improvements like paved streets and sewers.
During Luther Kennett's tenure as mayor, (1850 – 1853) St Louis constructed its first sewer main, began steps toward insuring a clean water supply and distribution, instituted weekly garbage pickup, and organized its fire and police departments. The city also, in 1852, started a city health department.
They had this.
Please take care of yourselves during this pandemic. We need your smiling faces.
National Information on Coronavirus and COVID-19 available at this link:
https://www.cdc.gov/coronavirus/2019-ncov/index.html
St Louis City Information on the same available at this link:
https://www.stlouis-mo.gov/covid-19/
Thanks to research sources including
Voluntarism On Trial: St Louis' Response To The Cholera Epidemic Of 1849; Paul W. Brewer; Bulletin of the History of Medicine; Vol 49, No 1; Spring 1975; pp102-122; Johns Hopkins University Press
Missouri Republican, July 5,1849.
Francis Sublette to Solomon Sublette; J.M Douglas to Francis Douglas; Missouri History Collection.
Proceedings of the Committee of Public Health, July 3 and 4, 1949;
Missouri Republican; July 29, 1849
The Book of St Louisans; John W. Leonard; The St Louis Republic; 1906